M24
Damage - 85
Range - 80
Accuracy - 92
Stability - 30
Mobility - 20
Rate of Fire - 18
Ammo - 5
This sniper is the default sniper that you get. It has great accuracy and stability, plus quick switching is fast, however it's 85 damage can easily be tanked, and it's range decreases it's damage quite a lot when in a long range scenario.

AWM
Damage - 95
Range - 88
Accuracy - 97
Stability - 20
Mobility - 20
Rate of Fire - 12
Ammo - 5
Unlike the TPG, this sniper has a decent moveshot and quick switch, along with good accuracy, and decent stability. However, the damage varies around -5% or +5%, making it and inconsistent 1hitko. It's range also causes the damage to drop over long ranges.

FR-F2
Damage - 95
Range - 80
Accuracy - 92
Stability - 30
Mobility - 20
Rate of Fire - 20
Ammo - 5
The FRF2 has a decent moveshot, pretty good accuracy, and a consistent damage. However, it's damage isn't enough to ensure a 90% 1hitko like the TPG, and it's range is much lower than the TPG.
KAR98K
Damage - 96
Range - 80
Accuracy - 95
Stability - 22
Mobility - 20
Rate of Fire - 18
Ammo - 5
The KAR has about the same damage and consistency as the FRF2, and with good stability and accuracy, however it has a low range, making it lose some damage over range and possibly causing a tag shot.
SV98
Damage - 90
Range - 85
Accuracy - 95
Stability - 27
Mobility - 18
Rate of Fire - 15
Ammo - 10
The SV98 has low recoil, high accuracy, and is flexible in terms of move shots, however it's range is low, and it's damage almost ensures a tag to a armored, full health target. Ammo count is higher than most snipers and quickswitching is lightning fast.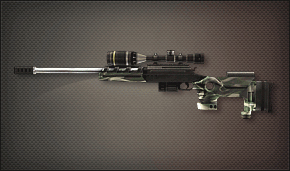 TPG
Damage - 100
Range - 95
Accuracy - 95
Stability - 10
Mobility - 12
Rate of Fire - 5
Ammo - 5
TPG is the one shot kill sniper of the game. The gun can be modded to have 110 damage, which guarantees a 1HKO 99% of the time. At the cost of the monstrous damage, though, the gun has horrible mobility, stability, and ROF. Quickswitching with this gun is optional, but is recommended to cancel out the recoil.
Pages in category "Bolt Actions"
This category contains only the following page.
Ad blocker interference detected!
Wikia is a free-to-use site that makes money from advertising. We have a modified experience for viewers using ad blockers

Wikia is not accessible if you've made further modifications. Remove the custom ad blocker rule(s) and the page will load as expected.